Education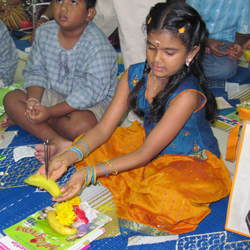 Educational Activities
The temple facilities were fully utilised with about 500 children and adults participating in the activities every week. A summary of the key activities is provided below.
Education
Throughout the year, educational classes for students in primary schools are conducted at subsidised rates by the Temple. The objectives is to give our students the advantage in doing well within schools and excelling in their studies. Educational classes are conducted for:
Tamil Tuition (Pr.1-Pr.6)
Tamil Tutorial for K1 and K2
English Reading Classes for Pre-School and Lower Primary
DMT and SINDA Reading Circle
DMT and SINDA Reading Circle
Our Temple continues its Reading circle for K1 to Pri 3 students in 2012. After taking a break during the December school holidays, the program was launched again in February 2012.
This time around, both English and Tamil reading will be introduced to our students. The enrolment has been encouraging.
Various activities are also been planned for the students to sustain their interest in reading.
Tamil Tuition Classes
| Classes | Days | Timings | Fee (Sgd) |
| --- | --- | --- | --- |
| Kindergarten K1 | Friday | 07.00 Pm - 08.00 Pm | 120/- Per Year |
| Kindergarten K2 | Friday | 08.00 Pm - 09.00 Pm | 120/- Per Year |
| Primary 6 | Friday | 07.30 Pm - 09.00 Pm | 120/- Per Year |
| English Reading | Friday | 08.00 Pm - 09.00 Pm | F O C |
| Primary 1 | Monday | 07.30 Pm - 09.00 Pm | 120/- Per Year |
| Primary 2 | Monday | 07.30 Pm - 09.00 Pm | 120/- Per Year |
| Primary 3 | Monday | 07.30 Pm - 09.00 Pm | 120/- Per Year |
| Primary 4 | Monday | 07.30 Pm - 09.00 Pm | 120/- Per Year |
| Primary 5 | Monday | 07.30 Pm - 09.00 Pm | 120/- Per Year |